| | |
| --- | --- |
| Posted on September 5, 2015 at 4:05 PM | |
Flourless Chocolate Chip Chickpea Blondies with Sea Salt
{vegan, gluten-free & healthy}
this is a re-post of the blog / recipe by AmbitousKitchen.com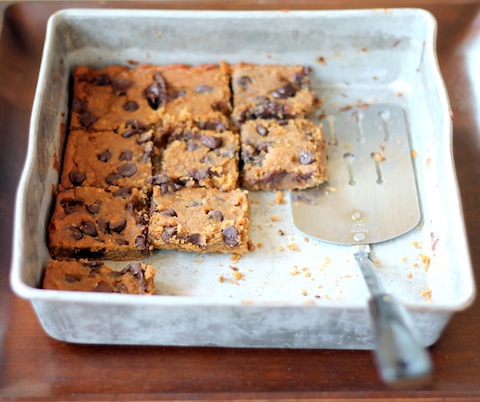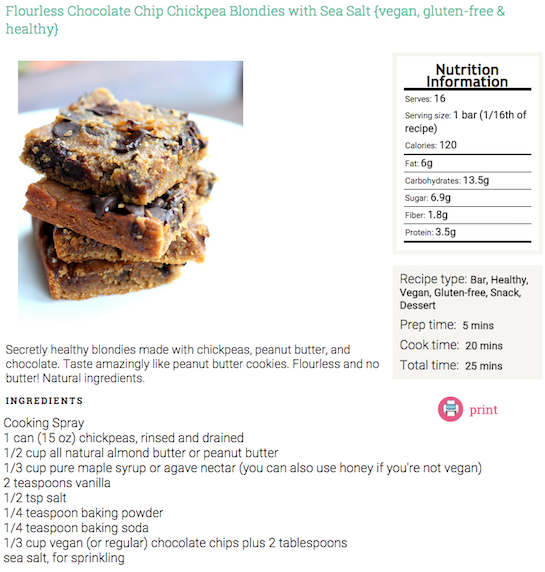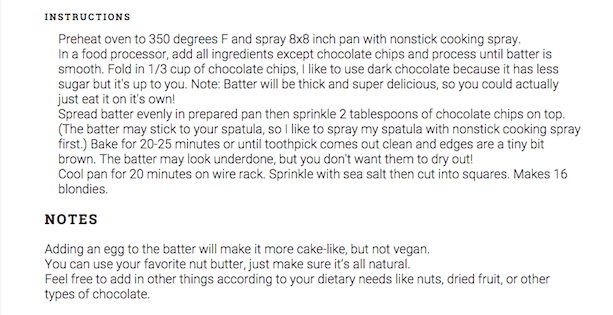 | | |
| --- | --- |
| Posted on April 11, 2014 at 2:35 AM | |
GRAIN FREE GINGER COOKIES
GLUTEN FREE - VEGAN -  GRAIN FREE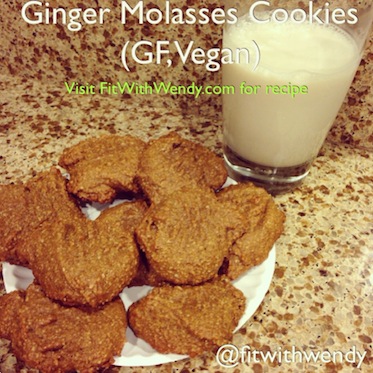 Made with protein-rich almond flour and blackstrap molasses, these cookies are surprisingly loaded with iron, calcium, copper, magnesium, and potassium. Naturally sweetened with pure maple syrup, they are also free of the most common allergens --> eggs, dairy, peanuts and gluten.
Blackstrap molasses is a sweetener that is low on the glycemic index, making it safe for diabetics.  It's high mineral content is thought to help improve menstural cramping.  Read more about the benefits of blackstrap molasses here.
Ginger Molasses Cookies
makes 12 cookies
Inspired by this recipe
Ingredients:
1 1/2 cups almond flour
2 Tablespoons coconut oil, softened
1/4 cup pure maple syrup
2 Tablespoons blackstrap molasses 
2 teaspoons ground ginger
1/8 teaspoon fine sea salt
1/4 teaspoon baking soda
Directions:
Combine all of the ingredients in a medium bowl, and mix until a thick batter is formed.
Chill the batter for 30 minutes in the fridge, to make sure it's nice and firm before scooping.
Preheat the oven to 350F and drop the batter by rounded tablespoons onto a baking sheet lined with a Silpat, or parchment paper.
Use a wet fork to flatten each dough mound, into your desired cookie thickness. If you'd like a sugar topping, try sprinkling a bit of low-glycemic coconut crystals over the tops before baking.
Bake for 8-10 minutes, until firm around the edges, but still soft in the center.
Allow to cool on the pan for 10 minutes before transferring to a wire rack to cool completely. 
Serve with a cold glass of homemade almond milk, and enjoy!
| | |
| --- | --- |
| Posted on August 13, 2012 at 2:35 AM | |
Almond Flour Banana Bread
GLUTEN FREE - SOY FREE - CONTAINS EGGS - LOW CARB - HIGH PROTEIN
Bananas are a great sourse of Vitamin C, Vitamin B6, Potassium, Manganese, Magnesium, and Fiber!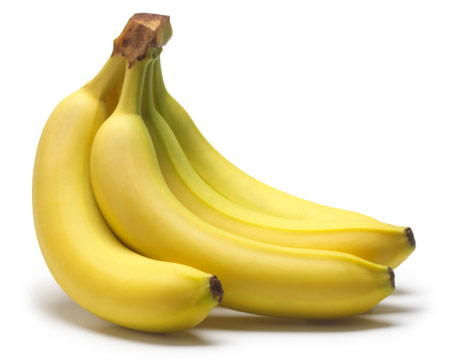 This was my first time baking with Almond Flour.  It's a bit pricey, but it's SO worth it! I love the fact that I'm able to bake again without having to use white flour or wheat flour since both are high in Gluten. I have to avoid Gluten because it causes an inflammatory affect in my body, mostly in my gut/abdomen area.  This might be do to the fact that I have endometriosis in the family. Anyways ~ Almond Flour is High in nutrients!
You will not miss your traditional White flour Recipe that your Grandma, Mom, or Dad used to make! My dad makes a great banana bread - so I'm competing with him here ~ hopefully I can get him to try this amazing recipe! 
 ALMOND FLOUR        VS.         WHITE FLOUR
              1/4 cup:                                                  1/4  cup:
            110 Calories 
           114 Calories
8 g Carbs                                            23.85 g Carbs
1g Fiber                                                   .8 g Fiber
              3g Sugar                                                .08 g Sugar
            11g Protein**                                          3.23 g Protein 
 When comparing Almond Flour to White Flour, Almond Flour has LESS Calories, More FAT but it's HEALTHY FATS from Almonds =)EXTREMELY LESS Carbs, MORE FIBER, Slightly More Sugar (not a big deal since it's natural sugars anyway), and WAY MORE Protein!!! WIN WIN WIN!!! Why ever cook with White Flour - when you can use this Heavenly Almond Flour!
Almond Flour Banana Bread
Prep time: 15 minutes
Cook time: 55 minutes
Ingredients: 
Makes 1 Loaf
1 1/2 cups Almond meal or Almond flour
2 Tbsp. Forti Flax, Flax Meal, or Ground Flax Seeds (optional)
4 Eggs
1/4 cup Coconut Oil
1/4 cup light or dark brown sugar OR Raw Honey, Agave, or Stevia (optional)
3 medium Bananas, mashed
1 teaspoon Vanilla extract
3/4 teaspoon Cinnamon
1/2 teaspoon Nutmeg (I Used 1/2 teaspoon Pumpkin Pie Spice)
3/4 teaspoon Baking powder (I used aluminum free from Mother's)
1/2 teaspoon Himalyan Sea Salt
1/2 cup Walnuts(optional)


Method:
Preheat oven to 350 degrees.
In a large bowl, mix together the almond flour, eggs, oil, sugar, mashed bananas, vanilla, cinnamon, nutmeg, baking powder, and salt until there are no clumps.
Fold the flax meal, walnuts, chocolate chips, or any other mix-ins, into the batter.
Lightly grease a loaf pan and pour in the batter.
Bake for 55 minutes or until a knife inserted in the center comes out clean.
Remove from the oven and let cool completely before slicing.
Please Cover & Refrigerate.
Enjoy!
~ Wendy
FitWithWendy.com
Helping You Make Fitness a Lifestyle