| | |
| --- | --- |
| Posted on April 11, 2014 at 2:35 AM | |
GRAIN FREE GINGER COOKIES
GLUTEN FREE - VEGAN -  GRAIN FREE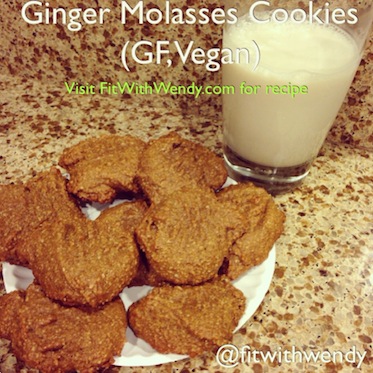 Made with protein-rich almond flour and blackstrap molasses, these cookies are surprisingly loaded with iron, calcium, copper, magnesium, and potassium. Naturally sweetened with pure maple syrup, they are also free of the most common allergens --> eggs, dairy, peanuts and gluten.
Blackstrap molasses is a sweetener that is low on the glycemic index, making it safe for diabetics.  It's high mineral content is thought to help improve menstural cramping.  Read more about the benefits of blackstrap molasses here.
Ginger Molasses Cookies
makes 12 cookies
Inspired by this recipe
Ingredients:
1 1/2 cups almond flour
2 Tablespoons coconut oil, softened
1/4 cup pure maple syrup
2 Tablespoons blackstrap molasses 
2 teaspoons ground ginger
1/8 teaspoon fine sea salt
1/4 teaspoon baking soda
Directions:
Combine all of the ingredients in a medium bowl, and mix until a thick batter is formed.
Chill the batter for 30 minutes in the fridge, to make sure it's nice and firm before scooping.
Preheat the oven to 350F and drop the batter by rounded tablespoons onto a baking sheet lined with a Silpat, or parchment paper.
Use a wet fork to flatten each dough mound, into your desired cookie thickness. If you'd like a sugar topping, try sprinkling a bit of low-glycemic coconut crystals over the tops before baking.
Bake for 8-10 minutes, until firm around the edges, but still soft in the center.
Allow to cool on the pan for 10 minutes before transferring to a wire rack to cool completely. 
Serve with a cold glass of homemade almond milk, and enjoy!
Categories: Healthy Baking